Next Meeting
Wednesday, 15th May 2019
John Sheaf, local historian and author will be showing "Hampton in Old Photos" 1850s-1930s. John owns a vast and fascinating collection of old photographs showing the ever-changing face of our local community. John's talks are always well attended so there there may be limited space. Any non-members wishing to attend please e-mail David Hicks (Chairman) to request a place.
chairman@hamptonhillps.org.uk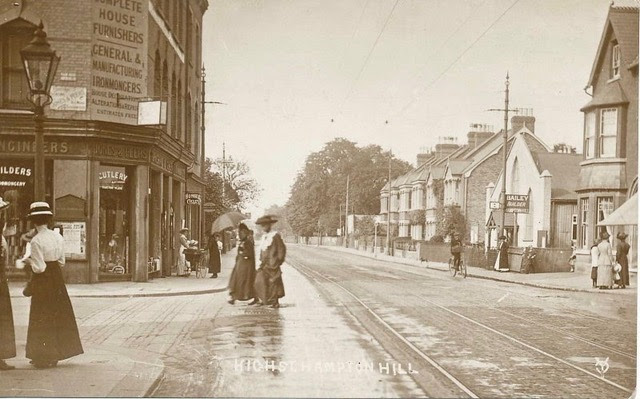 Junction of Hampton Hill High Street and Park Road
Last Meeting
Wednesday, 17th April 2019
Members brought along photographs to be chosen for the SPA inter-club PDI competition. Pictures were chosen for the Open and Nature categories which made for a very interesting evening. It was really great to get a chance to see so many members work. Members are invited to attend the competition which is Sat. 11th of May at East Horsley Village Hall, Kingston Avenue, East Horsley, Leatherhead KT24 6QT (doors open at 1:30 and competition starts at 2).
June Meeting
Wednesday, 19th June 2019
The 2 C's on 2 C's or 2 Charnock's on Churches & Cuba
We are having a joint presentation by husband and wife team Rob and Jay Charrnock FRPS from Richmond and Twickenham PS. We will be seeing church architectural images shot by Rob and later in the evening we will have a talk from Jay which is her tourist eye view of Cuba.
Coming Up
This years theme for the Christmas competition is "Inspired by a Book Title" i.e. the image title is the book title. Photos to have been taken during 2019.
Other News
SPA PDI Competition Results
This year's open section was won by Richmond and Twickenham PS with a score of 181 whilst we came 18th with a score of 158. 25 clubs entered. The nature section was won by Epsom CC with a score of 92. We were 19th with a score of 64. 19 clubs entered. This was a better result for us than last year in the open section and it was our fist time entering the nature section.
Martin Parr – Exhibition: Only Human
7th March – 27th May at the National Portrait Gallery
This major new exhibition brings together works by one of Britain's best known and most widely celebrated photographers, Martin Parr. Including recognisable photographs alongside works never before exhibited it will focus on one of his most engaging subjects – people. The exhibition will include portraits of people from around the world, with a special focus on Parr's wry observations of Britishness, explored through a series of projects that investigate British identity today.
The weather is getting better so hope all of you will be able to get out and take some wonderful photographs.
Rick