NEXT MEETING – ONLINE VIA ZOOM
Wednesday, 21st July at 8pm – POLINA PLOTNIKOVA FRPS: Starting from a Blank Canvas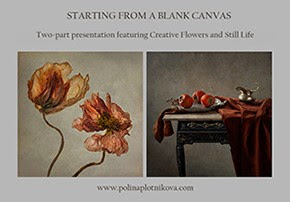 Polina, who is very well-known and respected in the photographic world, will be giving us a two-part presentation: Creative Flowers and Still Life.
She studied Fine Art History in both Moscow and London, and produces impressive flower portraits:  she is a regular award winner and has had her work featured at the Chelsea Flower Show.
If you think flower photography is not for you, you might be surprised, as Polina has a unique approach to the subject. Polina's still life photography is equally impressive.
Photographers will find this talk fascinating even if they are not normally flower or still life photographers. Artists working in other media will also enjoy how Polina studies and looks at her "subjects".
You can find out more about Polina on her website https://www.polinaplotnikova.com/  .
For more information about our meeting, visit our website here: – www.hamptonhillps.org.uk/programme.
Non-members need to sign up and buy a ticket via Eventbrite here:- https://www.eventbrite.co.uk/e/143546426225   The zoom link will be sent on the day of the meeting to those who have signed up and paid.
LAST MONTH'S MEETING – Members Picture Sharing
Our members shared and commented on their images, some beautiful, some demonstrating knowledge acquired from past presentations, and many from our 5th June walk in Brentford, highlighting the contrasts: the quiet rural stretch of the River Brent and the Thames, houseboats, busy locks, abandoned shipyard buildings, large, brightly painted new buildings, the sedate Butts….
OUR FUTURE MEETINGS
For information on our Programme, follow the link to our website https://www.hamptonhillps.org.uk/
 
You will also see this month's featured photographer, Charles, here: – https://www.hamptonhillps.org.uk/july-21-photographer-of-the-month-charles-titcombe/
 
Wednesday, 18th August – evening outdoor photoshoot
Details to be confirmed.
Wednesday, 15th September – Members Picture Sharing, either online or at The Bell Inn, or a hybrid of both.
Wednesday, 15th December – Christmas Competition and Social (again either online or at The Bell Inn)
For our Christmas Competition this year, the set subject is "a colour".  Chosen by each individual Member, this will be the main or only colour in the photo. Up to three digital images may be entered by each Member and each can be a different colour of their choice.
 
OUR SPECIAL EVENTS
Last Walk.  On 3rd July, eight members and friends walked from South Kensington Tube Station along Exhibition Road into Hyde Park and around the Long Water and the Serpentine; and those with stamina reached Green Park and St James's Park!  It was a very successful event and we hope that everyone came away with some photos they are pleased with and ideas for a return visit at a later date!
 
Future Walks:
7th August.
For our August walk, we will meet at Richmond Station, walk across the Green and down to the River, then follow the path through gardens and meadows to Ham House.  Once at Ham House, we will have the choice of taking a bus back to Richmond or crossing the river by Ferry (presuming it is running) completing the circuit back to Richmond or taking the slightly shorter route to St Margaret's Station.
 
4th September
Our September walk will be on Saturday September 4th and we will be exploring Kingston – save the date!
 
HHPS 2021 EXHIBITION
We will let you know as soon as we can if we will again be able to hold an exhibition of members' photos in our local libraries, or whether we will need to find an alternative venue.
 
OTHER EVENTS
PAGB Masters of Print
We have received an e-mail from SPA about the PAGB Masters of Print Exhibition and Catalogue. Why not take the opportunity to enter the 2021 Competition? To find out more, subscribe to PAGB news (free) on www.pagbnews.co.uk   We will circulate the printed catalogue to Members as soon as we have it to hand, which should be in the next couple of weeks.
 
"The Poetry of Landscape" exhibition, from 26th July to 1st August, at The Art Gallery at Denbies Vineyard, Dorking https://www.denbies.co.uk/events/art-gallery/
Photos by Edward Hyde and Vanda Ralevska portraying the landscape in its many guises ranging from open country and woodland, through mountains, seascapes, and the city.
 
Our Member Rosie has suggested Jerry Webb's exhibition "Shifting Positions" at the Brick Lane Gallery 3rd – 16th August – link here: – https://www.absolutemagazine.co.uk/shifting-positions-a-photography-exhibition-by-jerry-webb/?fbclid=IwAR0VeJcwFi1SUFExIfpvrSsQ2_cthOBXUZrcsiWkd6xM_bI6HnGc1UwbcwM
 
Photography Show & Video Show, 18-21 September at Birmingham's NEC
for the very latest gear, advice from big brands and celebrated speakers including Rankin: www.photographyshow.com
We hope to see many of you at our next meeting – spread the word!
 
Meanwhile enjoy the summer.
Penny
Committee member