THIS MONTH'S MEETING – ONLINE VIA ZOOM
Wednesday, 21stApril at 8.00pm
'Sports Images with Impact – moving beyond the record shot'. Presented by David Keep ARPS CPAGB
 

David writes:  "Sports images are very successful on the competition circuit and there's no surprise why – they almost guarantee an image with impact".  In his talk, David Keep will share his approach to gaining access, technical challenges on the day and post-processing. Sports covered include athletics, squash, tennis, boxing, cross-country and many more.  
While we are not generally competitive as a Society, many of us attend a range of sporting events from watching skateboarders in our local park to watching RideLondon as it passes our door – and we want to get better shots.  David's hints and tips as he takes us through is images should help us and give us some ideas to work on.
If you are not a member but would like to come along to this evening, follow the link hereto sign up on Eventbrite – or link herefor Meetup.  We will be very pleased to see you and former members too.  Members do not need to Register:  the zoom link will be sent to them automatically on the day of the event.
 
LAST MONTH'S MEETING
Wednesday, 17thMarch 2021 at 8.00pm
AGM and Picture Selection for SPA Interclub PDI Competition 
Our AGM was held on 17thMarch:  there were ten Members present.  The Society remains in good financial health and, apart from a brief pause in activities in the Spring of 2020, has continued to run its regular programme of events online during the pandemic.
 
One of the key points arising from the meeting was the need to encourage and retain new Members through better use of social media and ensuring that our programme remains diverse and relevant to existing members: a particular request from those present was that it should include more instructional/knowledge-sharing elements.
 
The Members voted to keep the Annual Membership Fee at £35 but the Visitor's Fee is increased to £5 for online meetings with an external speaker and £2.50 for online Members' Evenings – at the discretion of the Committee.
 
It is anticipated that the majority of the Society's meetings will stay on zoom until this time next year due to the likely ongoing requirements for social distancing measures, the possibility of Covid variants arising and so on, but the Committee will keep these aspects in view, potentially moving to some form of "hybrid" meetings and programmes when possible.
 
Minutes of the AGM will be circulated to Society Members when the draft has been reviewed by the Committee in early May, but in the meantime if anyone wishes to have a copy of the various reports tabled at the meeting, please contact secretary@hamptonhillps.org.uk
 
Picture Selection for SPA Interclub PDI Competition scheduled for 8thMay 2021.
After the formal business of the AGM, we carried out an online selection for the above.  
We very much enjoyed the process of looking at 20 Nature images from 7 photographers and 20 Open images from 8 photographers and voting them in two stages to our final entry of 16 images from 7 photographers in the Open Category and 8 images from 6 photographers in the Nature Category.
 
Subsequent to this selection event, we received the disappointing news that the SPA is not going ahead with this Competition:  they see it very much as an "in person" event.  However, they are now considering running an online PDI Competition in the Autumn and will let us know if and when they decide to do this.   In the meantime, on the positive side, we very much enjoyed seeing everyone's images and maybe we have a pre-selection for a Hampton Hill Exhibition in due course?
 
FUTURE MEETINGS – ONLINE VIA ZOOM
Wednesday, 19thMay 2021 at 8.00pm
The View from the Pit by Simon Reed 
 

Simon Reed is a freelance photographer specialising in Music and Events, based in the Surrey Hills around an hour from London. Most of his images are shot in London and in south coast venues, but he is available to take pictures across the whole of the UK and beyond.
His work has been published in national newspapers and books, his photographs are syndicated worldwide via the WENN picture agency, and he's also a regular contributor to RockShot music and culture magazine.
 
Simon says:  There aren't many things I've done that compare to the thrill of being between the crowd and the stage in a big theatre with three songs in which to nail your pictures. There are no second chances with this type of photography; you get it right first time, or not at all.
 
Whilst he is predominantly a live music photographer, he also undertakes brand and individual portraiture work and really enjoys collaborating with emerging talent.
We think you will find Simon's talk refreshingly different and appropriate at a time when Festivals are returning, post-pandemic.  You can find out more about him on his website here.
 
For information on our future Programme, follow the link to our website here
 
IMPORTANT REMINDER
Subscriptions are due in April and Members should have received an email from our Treasurer, Paul, with the Society's Bank details for your transfer of £35.  If not, please chase him: treasurer@hamptonhillps.org.uk
 
ONLINE EVENTS DURING LOCKDOWN AND BEYOND
Some Clubs are welcoming guests to their Zoom Meetings, many with excellent speakers: some Clubs and Societies have online Exhibitions, events and workshops.   Here are just a few ideas.   
 
Monday, 19thApril at 7.45pm.  Dorking Camera Club present a talk from Dr Eddie Hyde ARPS: "Processing for Landscape". Contact them via their Contact page herefor tickets.
 
Wednesday, 28thApril at 7.45pm.  Yateley Camera Club invite you to join their talk from Alyn Wallace titled "Night Sky Wonders – Landscape Astrophotography".  Link and full details here.
 
Why not take a peek at Richmond & Twickenham Photographic Society's Virtual Exhibition.  Running from 1stApril to 20thMay, it is sure to have some good images for you to enjoy.  Here's the link
 
The SPA Facebook page is sometimes a good source of information for events being run by other SPA clubs, to which guests are invited: link here.
 
RPS Bristol HQ still has many talks and events running online: some of their workshops may be a little expensive but if you want to learn about something specific, for example Natural Light Portraiture, you might find the investment worthwhile. Have a browse here.
 
While on the subject of the RPS, while not pop along to London Region Members' Outdoor Exhibition on Putney Wharf and have a coffee at the Putney Pantry. Link.  You may see some familiar photographers' work!!  The RPS London Region has up to ten events each month, most of which are free both the Members and Non-Members: you can see the listing here.   You will also see several familiar faces if you do decide to come along!
 
Are you interested in Gardens?  If so, why not sign up to some of the talks on the Gardens Trust website. (Membership not essential).  In May they are producing a series of four talks called "Unforgettable Gardens" covering London Squares, Wandsworth Common, Brompton – A Garden Cemetery reborn and Community Gardens.  All potentials for a summer post-lockdown photo walk?   Link here.
OUTDOOR EXHIBITION
As an alternative to online images, Emma Mapp has posted this on the Nextdoor website "I am the co-founder of the London Photo Festival and Twickenham resident. If you are looking for something different to see on your daily walk, then pop by Marble Hill Park and have a look at our new exhibition, Landscape Photography, which includes the images from young photographers from the Richmond Borough. The exhibition ends 30 April."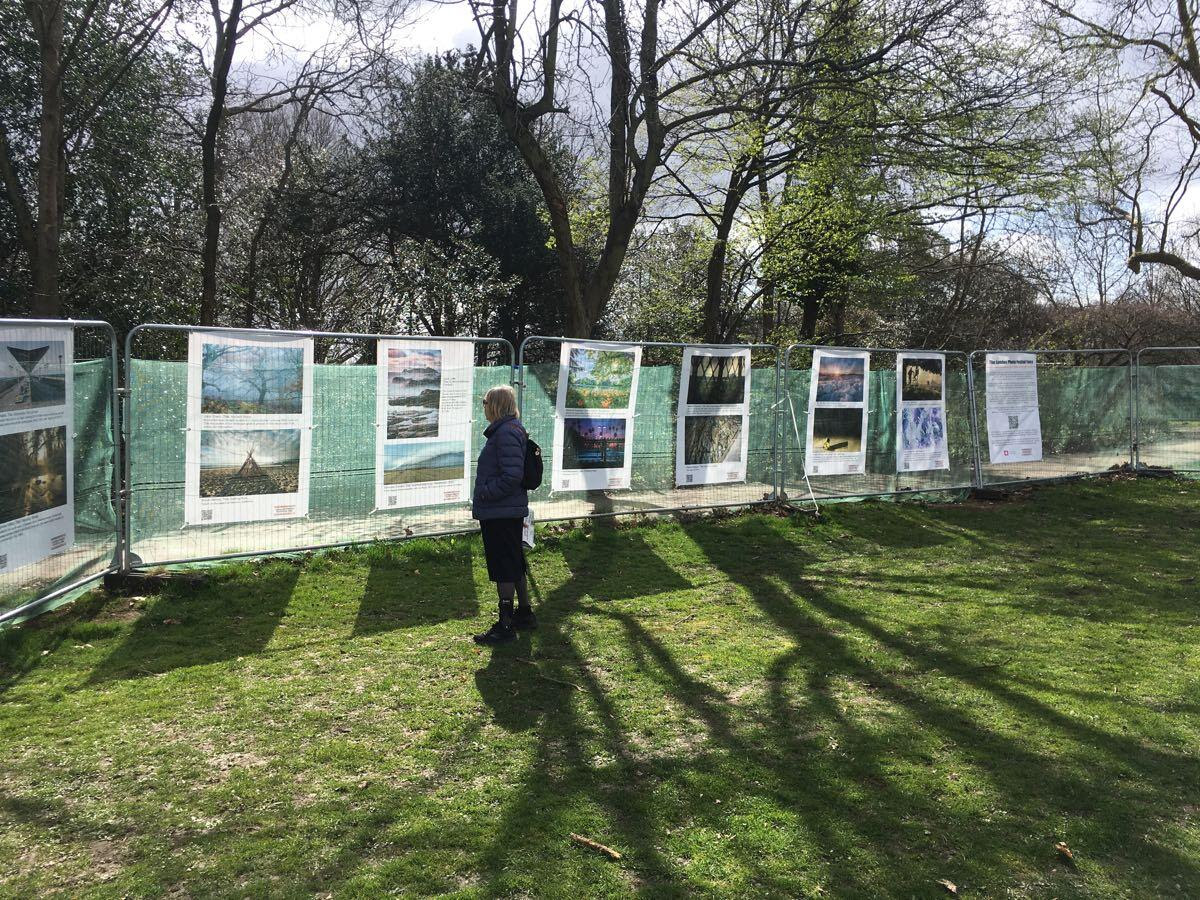 HHPS WEBSITE 
This month's photographer of the month will be our Chairman, David Hicks!  Watch the website for more information….
 
FINALLY
We hope to see many of you at our next meeting.  
Meanwhile, Stay Well, Stay Safe and enjoy the Spring weather.
 
Judy, Secretary.